The noble mission of Philippine Airlines (PAL) since its launch as Asia's first airline has been to serve as a partner in nation building.

That historic day was March 15, 1941, with a Beech Model 18 aircraft taking to the skies amid the specter of a global war.

Since then PAL has deeply involved itself in shaping the course of historic events, while at the same time becoming one of the most respected airlines around the world with a modern fleet of aircraft and a route network spanning 31 foreign cities and 30 domestic points.

PAL's excellent service has won the hearts of travelers worldwide, with its trademark reputation distinguishing it from many in the pack amid an airline environment becoming more competitive by the day.

But PAL has never sat on its laurels, and by realizing that its success is due to loyal Passengers launched a Call for Excellence campaign to serve its market better.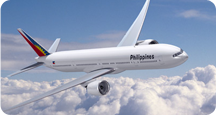 PAL embraced electronic commerce with the introduction of its Online Booking service, accepting ticket purchases and credit card payments for all flights. A new improved website was also launched to efficiently and quickly serve customers' needs.

The future for PAL has never been more promising. Six decades of service have provided the airline with a greater sense of purpose, a rising pride in its product and a confidence born out of having survived probably the worst.

Such foundations will enable the airline to face up to all future challenges in the ever changing world of aviation.